1.3 A Brief History About the TiDB database platform(TiDB 发展简史)
自从 v1.0.0 GA 开始,TiDB 做到了:可以从计算和存储两个层面的无限扩展,兼容了 MySQL 的语法和协议,强一致的真分布式事务。到今天,TiDB 可以称为一个真正的 HTAP 系统,不需要 ETL 工具进行数据转换,在系统运行 OLTP 业务时,也可以方便的进行报表查询。
主讲人:
Shuaipeng Yu (于帅鹏)
Product Specialist & Effic Team Leader
Before we begin
Goal: Introduce a brief history of TiDB
Outline:

Ancient days of TiDB
TiDB with TiSpark
TiDB with TiFlash
Ancient days of TiDB
Inspired by Google Spanner, we made TiDB
In the 1.0.0 GA version, TiDB is

A freely scalable (computing, storage) database
Compatible with MySQL syntax and protocol
Transparent Data Splitting Policy-Range Splitting
Strongly consistent, distributed transaction support
计算和存储的无限扩展,兼容 Mysql 语法。
TiDB Architecture - Original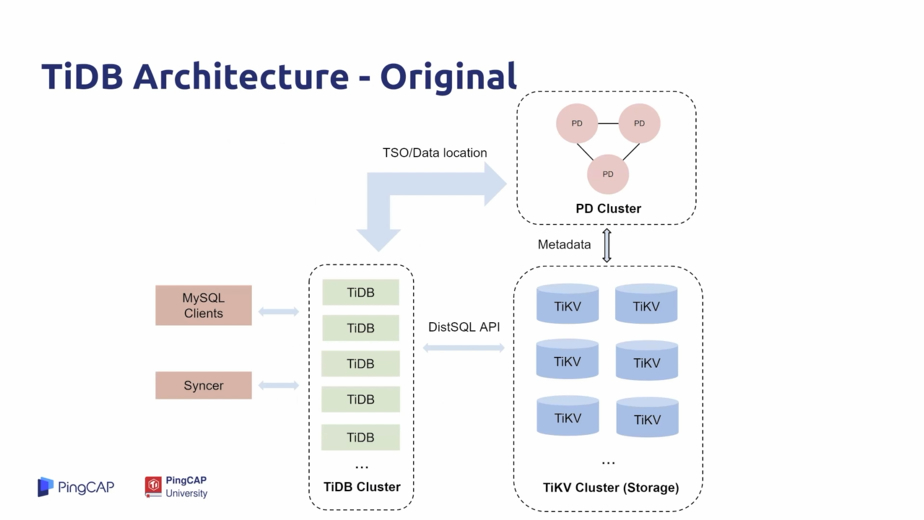 可以简单的认为 TiDB 是一个容量无限大的 Mysql。
Datahub Capability - Syncer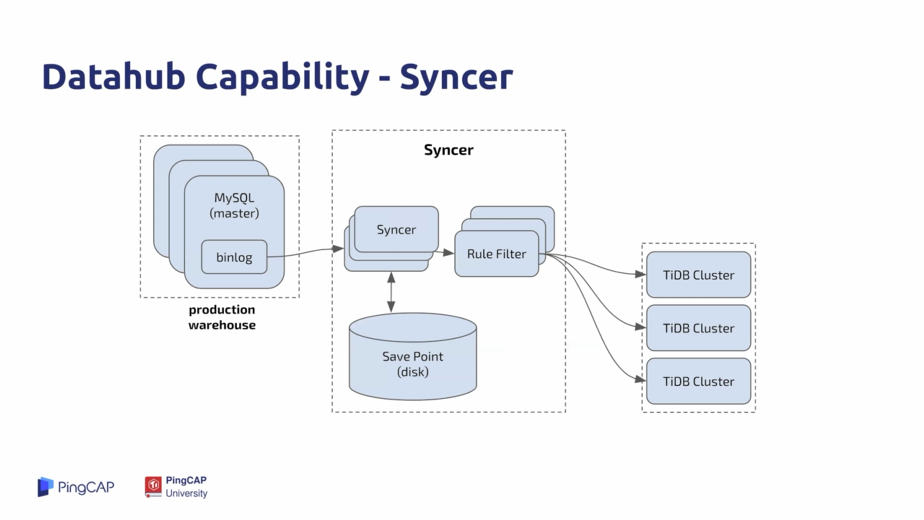 通过 Syncer 向 TiDB 同步和汇总数据。
Datahub Capability - Coprocessor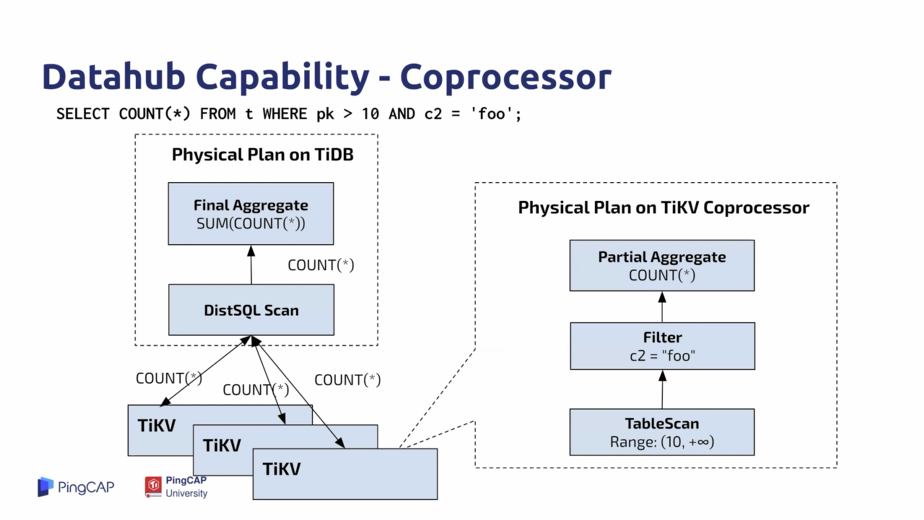 使用 Coprocessor 进行数据聚合。
Datahub Capability
TiDB ideal for Datahub scenarios
Protocol-compatible, easy synchronization of MySQL production libraries
Transparent and accessible cross-segmentation queries
Data landing in real time
Massive storage allows multiple data sources to converge
Standby - Datahub Analysis 2-in-1
One year later
TP Scenario

CUSTOMER: There are still some problems though...Smell good!

AP Scenario

Client 1: Complex statements are so slow!
Client 2: Always OOM!
Client 3: Can't integrate with big data platform!
Choice
Either combine TiDB or TiKV together

Complete refactoring of optimizers and actuators to build MPP Engine
High risk and long duration

Or,

The need for an open source distributed computing framework
High maturity and wide user base
TiSpark(1/3)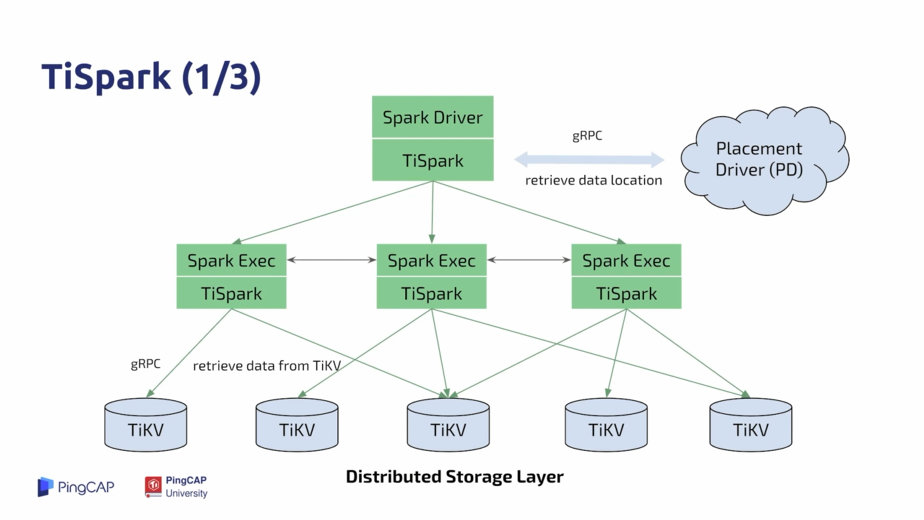 引入 TiSpark,将单点的 TiDB 计算能力扩展为多节点的并行计算。
TiSpark(2/3)
Spark help us do distributed computing

A mature distributed computing platform
Faster(?), more stable(?).
Complete succession to the Apache Spark ecosystem
Painlessly integrating into the big data ecosystem
Scripting, Python, R, Apache Zeppelin, Hadoop...
TiSpark(2/3)
Apache Spark can only provide low concurrency computation

Heavy computational model and high resource consumption
Better for Reports and Heavyweight Adhoc Queries

Users still need high concurrency, small to medium-size AP capacity in many situations

Complex query capability with low consumption
TiDB is far simpler to maintain than Spark Clusters
Meanwhile...
We were also working on various optimization around stand-alone TiDB

Smarter, more efficient and faster in small to medium scale scenarios

Optimizer

Basic optimizer? --> RBO + CBO Optimizer --> Cascades Optimizer(WIP)

Executor

Classic Volcano Model --> Batch Execution --> Vectorized Execution
Better Concurrency and Pipeline

Partition tables, Index Merge, etc.
TiDB 1.0 vs 2.0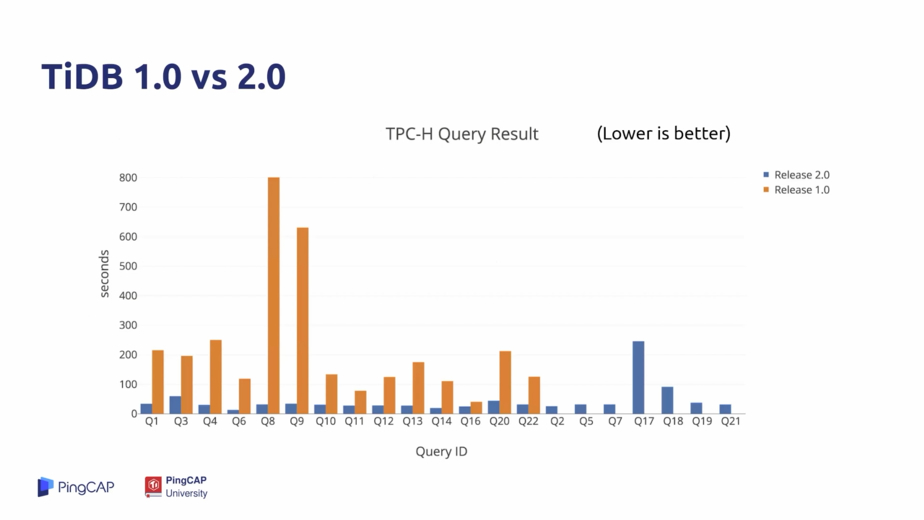 TiDB 2.0 vs 2.1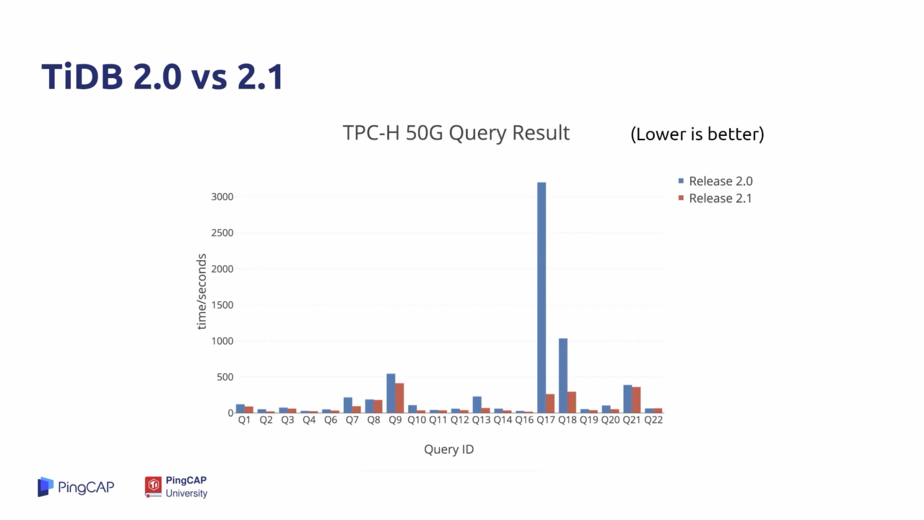 Core conflict
At this point, we were still left with 2 core contradictions.

Row storage is not friendly to analysis scenarios

"How dare you call yourselves HTAP without column store?

Workload isolation is not possible

"I ran a query and the CPU usage was 1000%!"
TiSpark scenarios would be worse.
Row vs Column Storage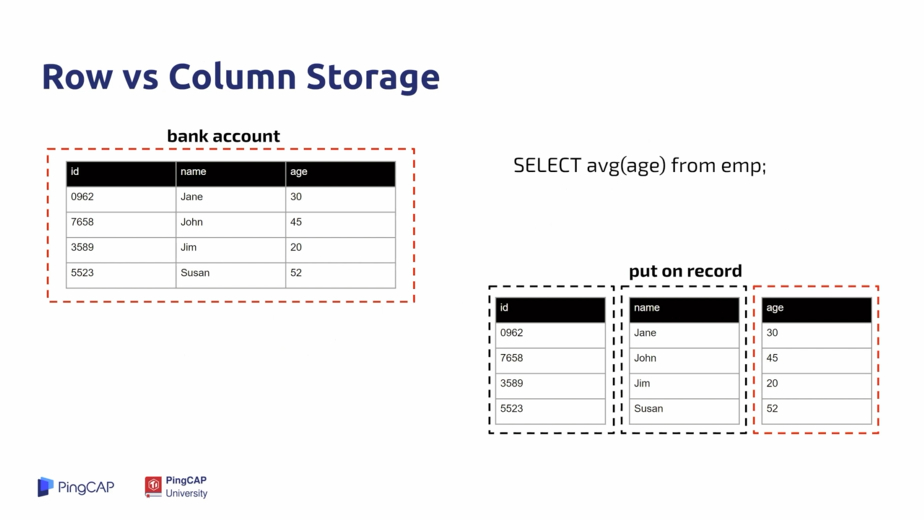 TiFlash
Synchronize a set of column storage independently via Raft Leaner

Raft Learner provides extremely low consumption copy synchronization
Raft Leaner read protocol works with MVCC to provide strong and consistent reads

Physical isolation via Label

AP / TP workloads do mot affect each other
同步代价小,通过打标签的方式实现物理隔离。
TiFlash Architecture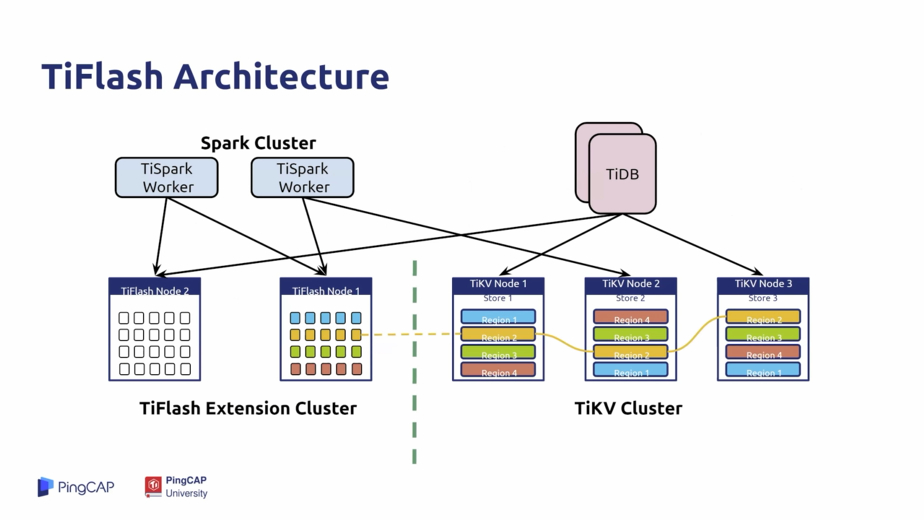 Raft Learner - Sync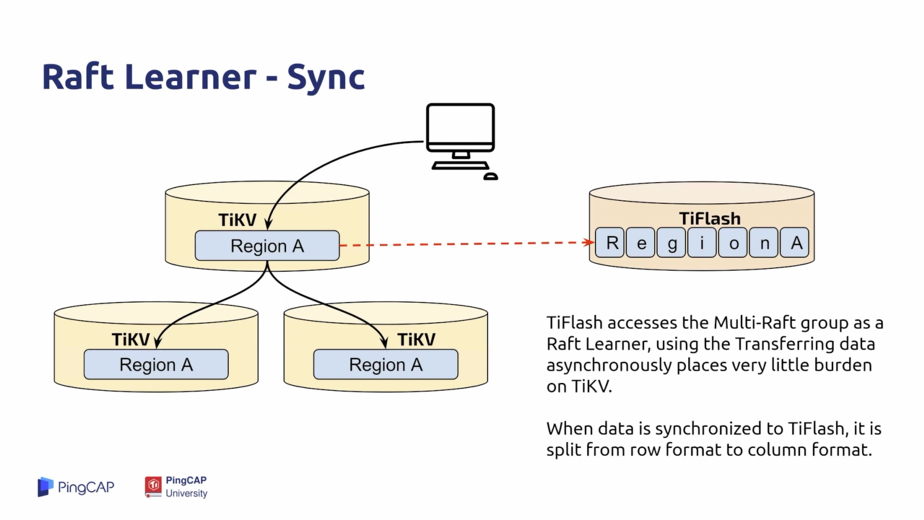 行存转列存。
Merge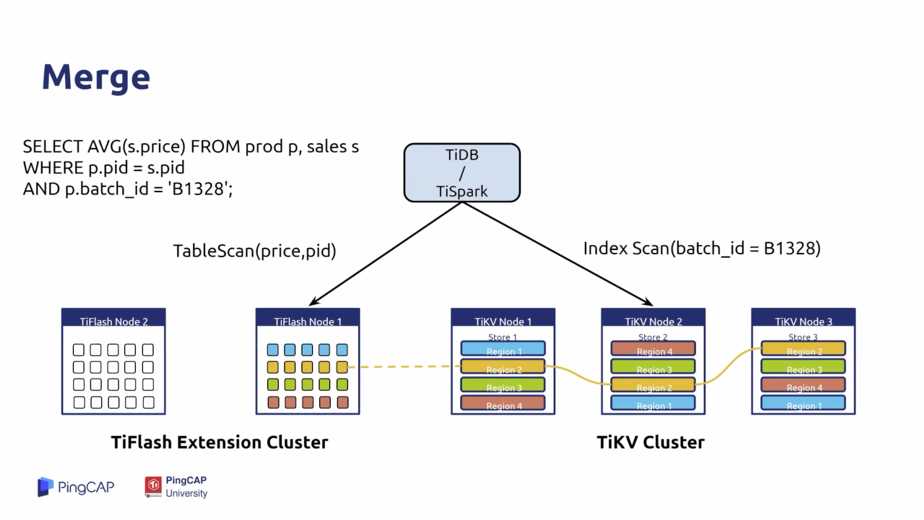 Performance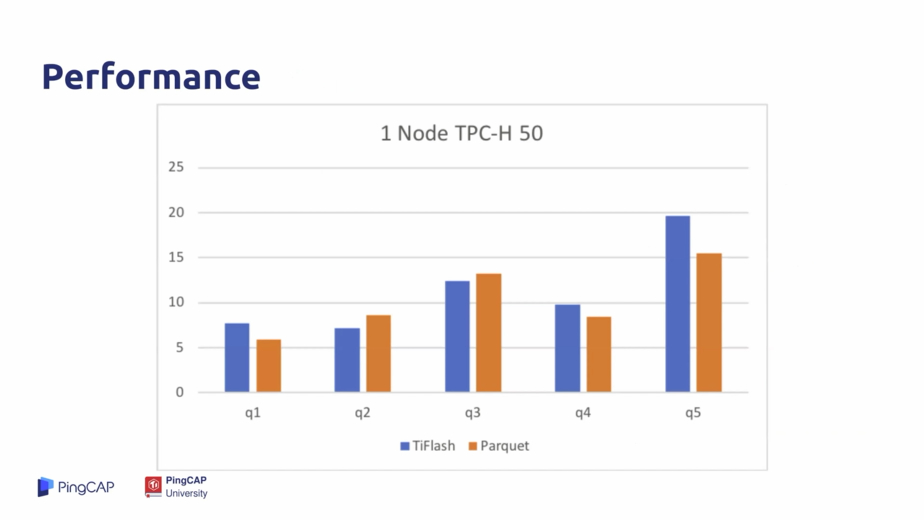 Till now
TiDB = HTAP

TiDB doesn't require you to choose TP or AP, it's HTAP.

One platform, compatible with row and column storage

Painless data synchronization

Easy to analyze on columns when the main TiDB cluster runs TP services
TiDB Today